Home Equity Continues to Climb
According to the newly released CoreLogic Q3 2017 Home Equity Analysis, homeowners with mortgages (roughly 63 percent of all homeowners) have collectively seen their equity increase 11.8 percent year over year, representing a gain of $870.6 billion since Q3 2016.
Additionally, homeowners gained an average of $14,888 in home equity between Q3 2016 and Q3 2017. Western states led the increase, while no state experienced a decrease. Washington homeowners gaining an average of approximately $40,000 in home equity and California homeowners gaining an average of approximately $37,000 in home equity.
"Homeowner equity increased by almost $871 billion over the last 12 months, the largest increase in more than three years," said Dr. Frank Nothaft, chief economist for CoreLogic. "This increase is primarily a reflection of rising home prices, which drives up home values, leading to an increase in home equity positions and supporting consumer spending."
Negative equity, often referred to as being "underwater" or "upside down," applies to borrowers who owe more on their mortgages than their homes are worth. Negative equity can occur because of a decline in a home's value, an increase in mortgage debt or both.
"While homeowner equity is rising nationally, there are wide disparities by geography," said Frank Martell, president and CEO of CoreLogic. "Hot markets like San Francisco, Seattle and Denver boast very high levels of increased home equity. However, some markets are lagging behind due to weaker economies or lingering effects from the great recession. These include large markets such as Miami, Las Vegas and Chicago, but also many small- and medium-sized markets such as Scranton, Pa. and Akron, Ohio."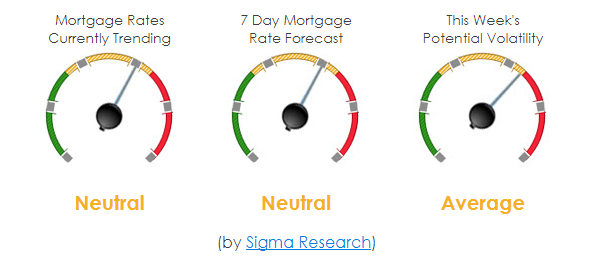 Rates Currently Trending: Neutral
Mortgage rates are trending sideways to slightly higher so far today. Last week the MBS market improved by +18 bps. This may've moved mortgage rates slightly lower last week. Mortgage rates continue to trade in a very tight range.
Mortgage Calculator: